"Protect and Serve"

---
The heartbeat and vision of our Brice police force is to...

"Through relationships of integrity we will Protect and Serve the residents of the Village of Brice as well as the surrounding communities".

We do this by upholding the laws that the State of Ohio has put in place for all municipalities. We sincerely ask that you obey all state regulated laws. The speed limit is 25 mph on Brice Road. Please do not drive intoxicated or without a valid drivers license. Our concern is for your safety as well as the safety of those around you.

Did you know: Within less then 3/4 mile stretch on Brice Road we have have two stoplights, 3 churches, one school, a Post Office, an active rail road tracks, a restaurant and several local businesses. We only have one sidewalk along Brice Rd and some of our homes are less then 20-25 feet from Brice Rd. We also have 5 intersecting streets within that same 3/4 mile. Brice also has a large number of young children that live and play in and around our village.

These are just some of the reasons that we ask you to Please Slow Down and obey the posted speed limits.

Many people forget that the Village of Brice has been here since the 1880's. Our job is to maintain the public's safety in the midst of the growth that surrounds us. Please partner with us in this endeavor by slowing down and obeying the laws that govern and protect us all.
Thank you





---


If you have any questions please feel free to call our village office at (614) 864-8591. Thank You.

Please note: Due to additional fees from credit card companies that are beyond our control, there is an additional 4% fee for all credit card and online transactions. This fee should be added to the amount you are paying!


---

5990 Columbus Street
PO Box 65
Brice, Ohio 43109
Village Office (614) 864-8591

www.briceohio.com

Office is open by
appointment only!



24 Hour Emergency Police:
(614) 864-0199


---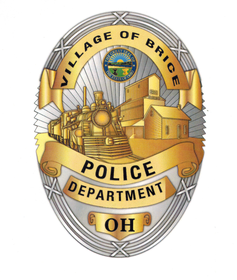 Village of Brice Division of Police


D. "Bud" Bauchmoyer, Chief of Police

Bud was the Chief of Police with the Village of Brice in the past. More information will be added at a later time.






Village of Brice
is served by a team consisting of
Village of Brice Division of Police
and
Turo Fire & EMT.


---
Village of Brice passed Ordinance 2016-02 allowing a photo-enforcement program. The Village of Brice will be using a third party services to enforce this ordinance.